The weather has been sunny for a few days now, yet we also broke a record this week–93 consecutive days below 40 degrees.  Tomorrow is supposed to finally be above 40, lucky for us. It has been a long winter.
Here is a springtime poem. It's in Chinese, with the English translation. Jiawen wrote it in Chinese for me. She said it's one of those poems that young children in China learn. I think it's beautiful — in Chinese and English.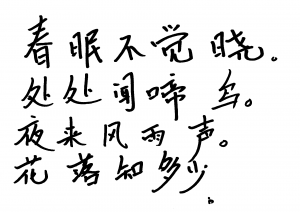 I awaken light-hearted this morning of spring,
Everywhere round me the singing of birds—
But now I remember the night, the storm,
And I wonder how many blossoms were broken.
~Meng Haoran